At 🚀✨Constellaition, we are in the business of digital transformation: we help organizations succeed in bettering and modernizing their 'Quads from current- to future-state.
In our shorthand, 'Quad = People + Process + Technology + Data, or "The Business Quadrinity"
Transformation is not easy. In fact, according to recent McKinsey and BCG studies, up to 70% of digital transformation initiatives end up falling short of their goals. With the tech allure of "no-code ex-MAANG unicorn cumulonimbus cloud DevOps Architecture as a Service (AaaS)" platforms, many organizations are lulled into a risky DIY approach that, in our opinion, stinks like its platform namesake.
So what can be done?
Among other things, organizations can lower project risks and increase their transformation success by utilizing an Implementation Methodology to improve HOW their transformation occurs.
For successful digital transformation, it's not enough to have talented people, powerful technology, and a huge warchest. To get to the right answers, you have to ask the right questions. To change hearts and minds, you have to empathize. To inspire, you must demonstrate expertise.
Our unique ASTRAL methodology takes battle-tested agile implementation approaches and integrates it with more than just lip service to people, process, technology, and data.
ASTRAL is an acronym for:
🔃 Agile
⚙️ Systematic
🦋 Transformation
🚥 Readiness
💜 Adoption
📖 Learning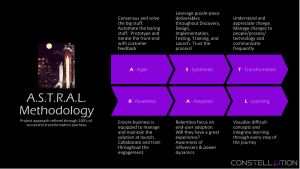 ASTRAL is the product of over a hundred successful transformations for global enterprises across many different industries. Each of these pieces are informed by our values to create an exceptional delivery experience.
Digital transformation is a challenging but vital step in ensuring that your business will continue to thrive in the modern world. Navigating that journey requires experience, expertise, and empathy.
Trust 🚀✨Constellaition and our 🌠ASTRAL methodology to help guide your organization #tothestars